Pinched nerves can cause severe pain and discomfort, and if you've ever experienced one, you know how desperate you can become to find relief. They can occur for many different reasons and can happen to anybody. Fortunately, pinched nerves are one of the areas and conditions we can treat with chiropractic care.
A chiropractor can help a pinched nerve by performing adjustments to help reduce tension and bring relief to the affected area.
If you're suffering from a pinched nerve, booking a consultation with your chiropractor can provide an opportunity for them to examine your unique needs and help you determine how to get relief.
What Is a Pinched Nerve?
A pinched nerve, also known as a compressed nerve, is a condition that can develop when pressure is exerted on a nerve by the surrounding tissue in your body.
Nerves are responsible for acting as your body's natural communication system and sending messages to and from your brain and other parts of your body. They also communicate sensations, movements, and pain to and from the brain.
This means that when a nerve becomes compressed, it can send signals of pain, discomfort, and other symptoms to your brain, as this communication system is being damaged by the parts of the body around it.
Pinched nerves often occur in the spine, particularly around the neck and in your lower back. However, they can also appear in other areas of the body, such as the wrists, elbows, and legs.
Oftentimes, the pain radiates away from the source of pinching or compression – for example, a pinched nerve in the neck can lead to symptoms felt in the hand, or a pinched nerve in the back can lead to symptoms felt in the foot.
What Causes Pinched Nerves?
Pinched nerves can be caused by several factors. However, one of the most common causes is a herniated spinal disc —when the material between vertebrae in your spine protrudes and puts pressure on nearby nerves.
This isn't the only cause, however. A pinched nerve can also be caused by:
Bone spurs
Joint dysfunction
Muscle imbalances
Awkward or incorrect movements
Repetitive movements
Poor posture
Other environmental and lifestyle factors can also contribute to a pinched nerve.
What Are the Symptoms of a Pinched Nerve?
Pinched nerves can cause a wide range of symptoms, depending on their location and how compressed they are by the surrounding tissue.
Some of the common symptoms of a pinched nerve include:
Localized pain
Tingling that is often described as pins and needles
Numbness, either complete or partial
Muscle weakness or shakiness
A loss of feeling in the muscles or surrounding tissue
A pinched nerve in your neck may cause pain shooting down your arm and toward your fingers. Meanwhile, a pinched nerve in your back could cause pain in one or both legs, leading to sciatic pain and numbness between the lower back and foot .
In addition to pain and physical discomfort, a pinched nerve can have short or long-term effects on your quality of life. It can severely impact your ability to lift objects or sit comfortably. Walking can also become much more challenging as the repetitive motion can lead to additional stress on the nerve.
A pinched nerve can even lead to severe impacts on your sleep, as lying down may be painful. This can lead to fatigue, irritability, or problems with your mental health.
All the potential health effects of a pinched nerve make it essential to seek help, so you can avoid further complications.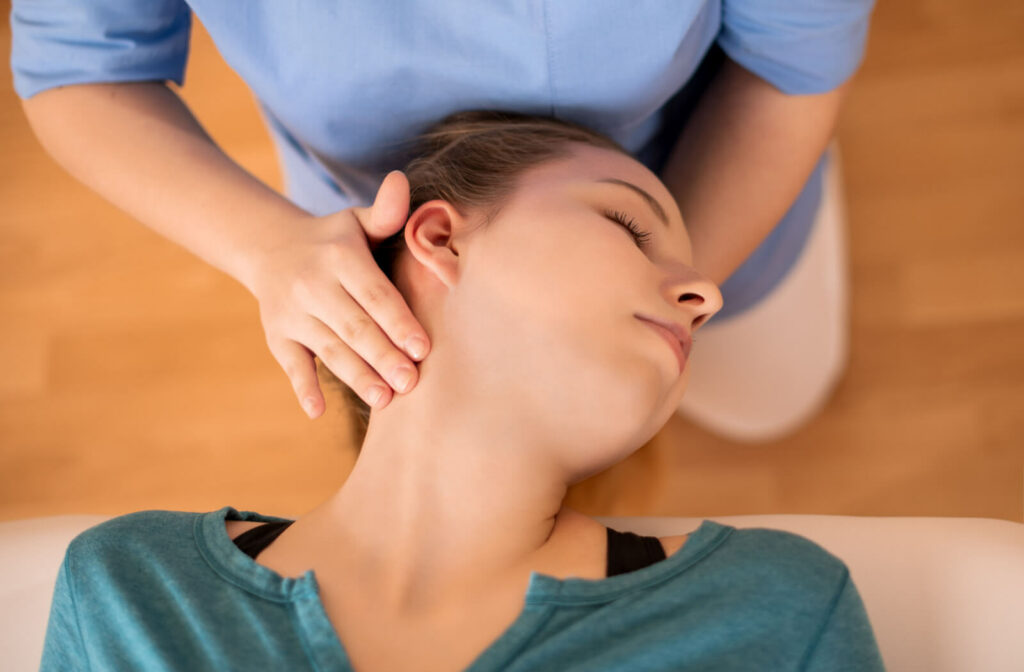 How to Fix a Pinched Nerve
Fortunately, since pinched nerves are common, there are options available for treatment, such as chiropractic care.
Chiropractors are trained professionals with experience in treating muscle and skeletal conditions, including issues that can develop with the spine and nervous system. They can perform spinal adjustments, manipulate soft issues, and other techniques to help address the causes of a pinched nerve and provide relief.
Chiropractors can also offer advice on making lifestyle or posture changes to avoid the likelihood of developing pinched nerves in the future. A holistic care team that includes chiropractors can offer additional services as well, including soft tissue massages, stretches, and the recommendation of exercises to help promote recovery.
It's important to note that every individual case is different. It can be helpful to schedule a consultation or contact your chiropractor ahead of time, so they can determine what type of care can be an appropriate treatment for your needs.
Getting Help for Pinched Nerves
If you suspect you have a pinched nerve or are experiencing any symptoms indicating you may have one, it's essential to seek professional help. While there are some measures you can take at home to help reach a sense of relief, it's important that you address the underlying cause to promote healthy, long-term recovery.
Chiropractic care can be a noninvasive approach for treating pinched nerves—and can be an excellent way to reach a sense of freedom and relief. At Running Shoe Restorative Healthcare, we understand how frustrating pinched nerves can be. Schedule an appointment with us today to learn more about how we can help you experience relief.